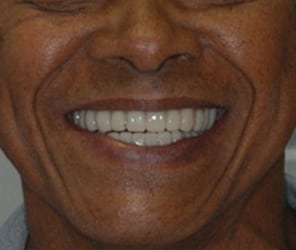 The Full Mouth Rehabilitation Uses a Combination of Treatments to Restore and Rejuvenate Your Smile
At Extreme Dentistry in Darwin, we offer a range of treatments that can restore your smile. Using advanced restorative techniques such as Veneers, Crowns, Implants and Snap-on Smiles we can return your smile to one that is healthy, functional and beautiful. These solutions are designed to fix a host of problems which work towards maintaining your natural teeth, which fits our 'teeth for life' approach to dentistry. Dr Anand Patel may recommend these rehabilitative and cosmetic treatments if you have experienced significant tooth wear. He will utilise his refined expertise in prosthodontics, implant dentistry, oral surgery and rehabilitative dentistry to ensure your new smile is durable and aesthetically pleasing.
Significant tooth wear looks like this: 
We performed multiple stages of evaluation on our 65 year old patient Jake* (see above). First of all we performed a purely visual analysis where we observed his excessive tooth wear and missing teeth, and also the slanted pattern of his tooth wear. The next step we took were x-rays and an examination by an oral surgeon, where it was determined that an old injury which involved a partially dislocated jaw resulted in his teeth grinding to the right, causing the slanted wear of his teeth (see below).
Once Dr Anand Patel and his team have diagnosed the problems and the cause of the problems we then construct a thorough treatment plan to rehabilitate your smile.
Rehabilitation of Tooth Wear…
The goal when treating tooth wear is to go from this:
To this:
The journey for our patient's full mouth rehabilitation for a healthy, complete smile seen above involved a number of treatments involving the Snap-On smile, dental crowns, dental implants and finally the finished smile. The process involved:
In Jake's case the Snap-on Smile was used to help start the rehabilitation process and get him and his jaw used to having a fully functional smile. As his treatment progressed, the Snap-On smile was replaced with dental crowns.
The Snap-On Smile allowed him to adapt to his new corrected bite. It also allowed him to prepare for when the dental implant treatment was complete.
Crowns are used to strengthen and protect weak or damaged teeth. In Jake's case, crowns were used to cap teeth that were worn down, weak and in desperate need of repair. A crown is colour-matched to blend in with your natural teeth for a seamlessly natural appearance:
Can you see the difference between his natural teeth and the dental crowns?
Once this was complete we were able to focus on the teeth that needed cosmetic enhancement. Veneers are a popular treatment because they look just like your natural teeth and are fitted in a relatively simple procedure. Porcelain veneers are thin shells that are permanently bonded to the front of your teeth to conceal discolouration as well as chips, cracks or other imperfections. With proper care, porcelain veneers can last up to ten years. We used veneers to conceal purely cosmetic dental concerns.
In some of the photos you may have noticed Jake was missing teeth which were also one of the causes for his tooth wear. This is because when a person has a full set of teeth, you chew mainly with your back teeth. If you don't have back teeth then you compensate by chewing with your front teeth, which was one of the causes of Jake's significant tooth wear.
To solve this issue and restore the function of his teeth at the back of his mouth, his missing teeth were replaced with dental implants which are a long-term and durable solution to tooth loss. Implants are a complete tooth restoration that addresses the health and stability of your jaw as well as your teeth and gums. Dental implant treatment can take around 6 months to complete because time is needed for your jaw to heal around the implant and provide a stable foundation for the implant crown.
The End Results of a Full Mouth Rehabilitation…
After two years of gradual treatment Jake went from this:
To this:
By combining a range of treatments over two years, Dr Anand Patel was able to restore and rehabilitate Jake's smile.  The Snap-On Smiles played a large role in rehabilitating Jake's smile as it was necessary to get him physically and psychologically used to the new bite.
After treatment Jake's smile was fully rehabilitated:
For more information on how Dr Patel at Extreme Dentistry can help you, or to book an appointment, please don't hesitate to contact us.
*To maintain the patient's confidentiality their name has been changed.