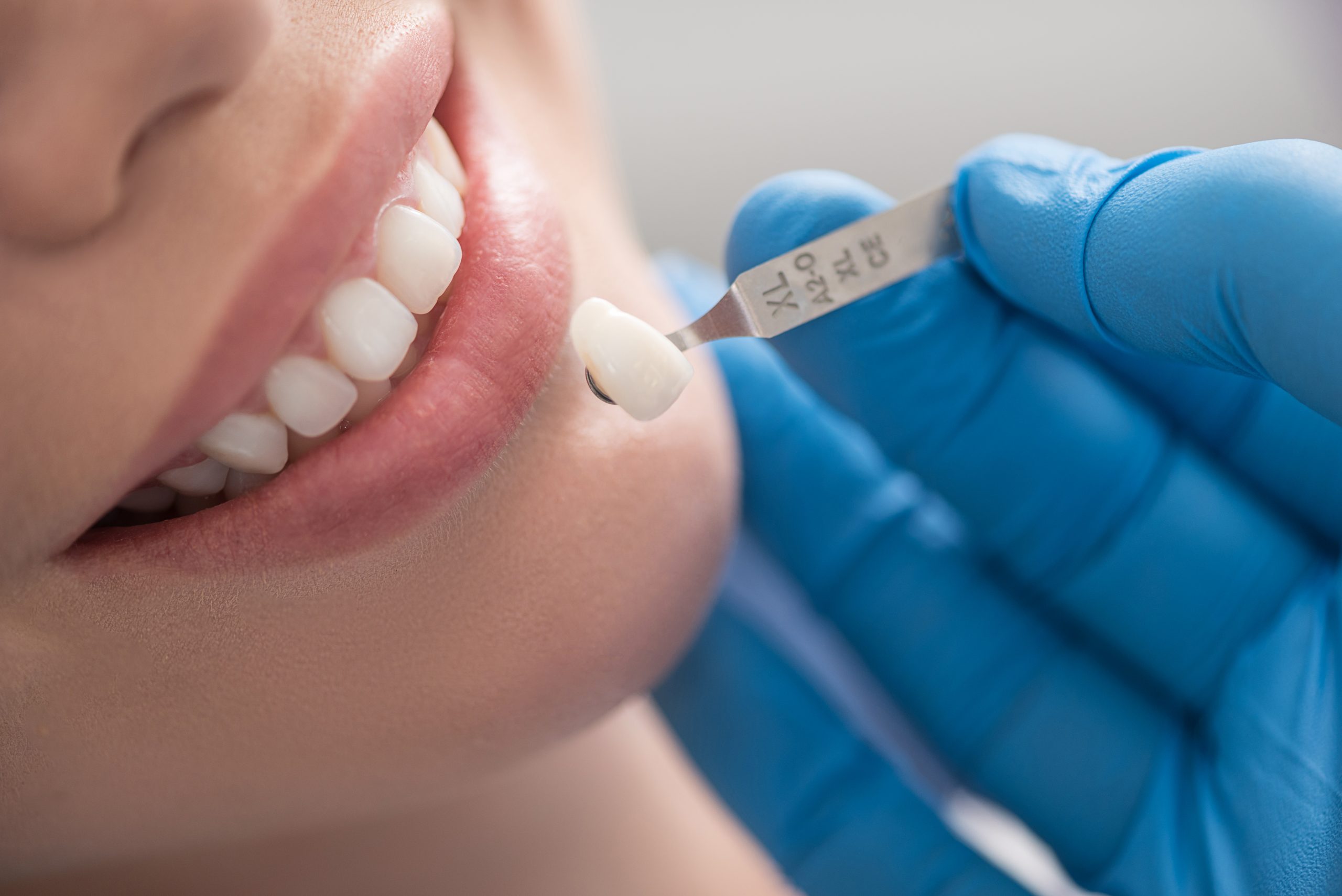 The dental crown fitment process is straight-forward and pain-free.
Dental crowns might be recommended for a wide variety of reasons and can make a huge difference in the lives of patients. They can provide relief from pain and discomfort, while, in some cases, they are a necessary preventative measure.  Read on to learn more about dental crowns, and what to expect from the dental crown fitment process.
What is a dental crown?
A dental crown is a fabricated cover (or 'cap') designed to fit over an existing tooth. It covers the top of the tooth (its 'roof'), providing structural support for the underlying portion of the tooth. A dental crown can therefore increase the strength of a weakened tooth, helping to prevent breakages.
Why do I need a dental crown?
A dental crown may be recommended for a variety of situations. If one of your teeth is badly broken, cracked or worn down, or if there is a very large cavity present, your dentist might suggest a dental crown to prevent further damage.
Other reasons for getting a dental crown include fixing the tooth following root canal treatment, and — on the more cosmetic side of the equation — dental crowns can be an effective option for very discoloured teeth that aren't responsive to other teeth whitening treatments.
What are the different kinds of dental crowns?
The most common dental crowns are made from porcelain bonded to precious metal. Crowns made entirely out of porcelain have an excellent natural look, but are not as strong as bonded crowns, and are therefore primarily used for front teeth dental crowns.
Ceramic dental crowns have a similar, natural appearance to porcelain, but are far stronger, meaning they can be placed anywhere in the mouth.
What is the dental crown fitment process?
Although same-day dental crowns are a widely-offered service, these tend to be most effective in cases where the need for stabilising the tooth is minimal. Generally, the dental crown procedure happens over two separate dentist appointments.
Firstly, your dentist will assess and match the natural shade of your other teeth. They will also 'prep' the damaged tooth by shaping it slightly, in order for the dental crown to fit snugly on top. A mould of the prepared tooth is then taken, and a temporary crown will be fitted during the first appointment.
The mould of the prepared tooth will then be sent away to a specialised laboratory, where your choice of crown will be created.
When the permanent crown has been manufactured, you will return to your dentist to have the temporary crown replaced by the permanent crown. The permanent crown is permanently fixed into place using highly-effective dental crown cement.
The recovery time from dental crown fitments should be short and uncomplicated. Be on the lookout for any pain and inflammation, and be aware that it may take a few days to adjust to the feeling of the crown in your mouth — it could be a slightly different shape to the old tooth. If this feeling persists for many days, or begins to negatively affect the feeling of your bite, book a follow-up consultation with your dentist.
How can we help?
Extreme Dentistry aims to enrich the quality of life of those we serve and those around us so we may all eat well, look well and feel well. There is no need to suffer discomfort from your chipped, worn- down, or damaged teeth any longer — Extreme Dentistry can repair and restore your teeth's appearance and function. Our aim is to achieve a natural look when using crowns, to blend seamlessly with the surrounding teeth. For more information about our dental crowns, please read more here.
At Extreme Dentistry, our motto is 'teeth for life' and we achieve this using our 'fixed for life' approach. Our cutting-edge practice is located in Darwin and we are here to provide a holistic and memorable experience for our patients. To book an appointment, please get in touch here.
Whether you want dental care for yourself or your entire family, we can do it all at Extreme Dentistry — from restorative care to cosmetic enhancements. To learn more about the extensive range of services we offer, please read more here.