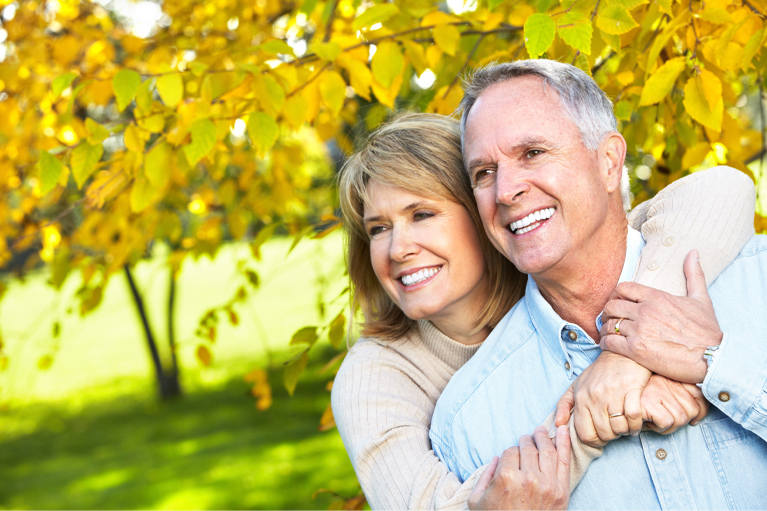 Dental implants are the ideal solution for replacing missing teeth as they can last a very long time, however the longevity is dependent on many factors.
Find out below what dental implants are made of, how long they last, and how to take care of them.
Dental Implant and Crowns: What Are They Made Of?
Dental implants are made from two different components: the metal screws which are inserted into your jaw, and the dental crowns which sit visibly on top and function as a normal tooth.
The metal screws are made from titanium, which is a safe metal that is easily accepted by the body and provides a strong foundation for replacement teeth. Essentially, they are artificial tooth roots that are screwed into the jaw bone. The implant is so biocompatible that once implanted; the jaw bone will grow around the implants and will bond as if they were natural tooth roots.
Dental crowns are the visible part of the dental implant and are typically made from porcelain. At Extreme Dentistry, our crowns are tailor-made to match the colour and shape of your teeth. Each prosthetic tooth is carefully designed and custom-made for each patient.
How long do dental implants last?
Dental implants can last for a very long time – from 25 years to a lifetime!
They are long-term, permanent solutions which offer the most natural-looking, feeling and functioning result. You will hardly notice the difference between your natural teeth and your new false teeth.
Can Dental Implants Fall Out or Fail?
It is very rare for dental implants to fall out. They are fixed firmly into place as the bone tissue grows around the implants anchoring them securely.
In very rare cases, bone loss or peri-implantitis (gum disease) may cause the implant to become loose or fall out. It is vital that if this does occur, to speak with your dentist straight away to address the problem. If left untreated, it can be dangerous to your health.
If you are relatively healthy, you should have no issues whatsoever. You will be able to enjoy your new smile every day knowing your dental implants are safe and reliable.
What You Can Do to Ensure Your Dental Implants Last
The duration of your new implants will depend on multiple factors, including how well you take care of them. Often, this requires no more than your usual dental routine. The following five tips will help you ensure your dental implants last as long as possible.
Use a soft toothbrush
Brush your teeth gently with a soft nylon toothbrush after meals. Hard bristles can scratch the surface of your porcelain implants. Avoid using any other metallic instruments in your dental routine.
Floss daily
This might be a given, but flossing daily plays a massive role in your overall oral health. This will help stop plaque from accumulating around your implants which can cause hygiene issues.
Maintain a healthy diet
A healthy diet is also essential for good oral health and for improving the longevity of your artificial teeth. Avoid sugary, sticky foods, as well as chewing hard foods or ice.
Avoid smoking and alcohol
The healing process post-surgery can be impeded by smoking and drinking. Smoking can restrict the necessary blood flow, as well as cause dryness by blocking the salivary glands. Alcohol can also cause blood flow restriction and make it difficult for the mouth to heal.
Avoiding smoking and alcohol is also essential for overall oral health. In particular, smoking can cause gum problems, nerve damage and bone loss which will damage your natural teeth and tooth replacements.
Regular dental checkups
Visit your dental clinic regularly for checkups to maintain your overall oral health, which will, in turn, ensure your implants can last a very long time. The team at Extreme Dentistry in Darwin have strong experience in dental implant surgery and can advise you on personalised care.
Dental Implants Darwin
Dr Anand and the team at Extreme Dentistry are very experienced in providing dental implants as well as other restorative treatments and after an assessment of your oral health, will be able to advise whether dental implants are right for you.
If you are ready to find out more about dental implants in Darwin or would like to arrange a consultation, simply fill out our online form or call 08 8948 1225 today!