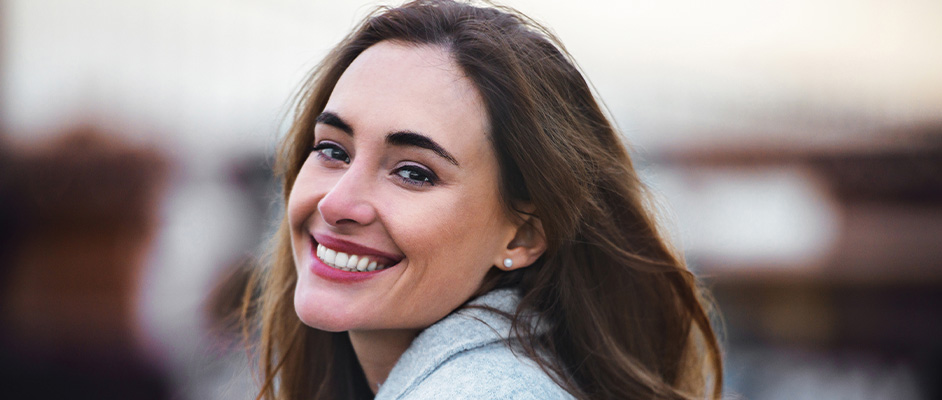 Both veneers and crowns can improve the appearance and function of the teeth.
When it comes to restorative dentistry, there are a number of effective treatments available. While veneers cover the front of the tooth, a crown is designed to cover the whole tooth. Each of these treatments has its benefits — read on to find out how dental veneers and crowns differ from each other, and which one is best suited to your particular needs…
What is the difference?
Dental veneers are made of high-quality, durable porcelain and are bonded to the surface of the teeth. A veneer is very thin — in fact, most veneers are just a millimetre thick. Dental veneers are typically used to conceal cosmetic flaws and help achieve a whiter, more symmetrical and even smile.
On the other hand, a crown is usually around two millimetres thick and is designed to cover the entire tooth. Crowns can be made from a number of materials, including porcelain, ceramic or metal alloys like titanium. A crown replaces the whole roof of the tooth so that the underlying part can be held together and properly supported. Crowns help strengthen a weakened tooth and are often recommended when stability needs to be restored.
Which one is right for you?
Dental veneers are often an effective treatment for those who would like to conceal a cosmetic imperfection. They can be used to conceal issues like gaps, chips, cracks, discolouration, crooked or misaligned teeth.
A crown may be recommended in a situation where a tooth has been severely damaged or weakened. If you have a large filling, a root canal, a severe crack, or a very worn-down tooth, a crown may be the best treatment for you.
What do the procedures involve?
If you choose to get dental veneers, you will choose paint on veneers or one visit veneers. Paint on veneers can be placed in just one visit — first, your teeth will be prepared, and a small amount of the tooth's surface is removed. The veneers are then attached to the surface of your teeth with the help of a special curing light.
One visit veneers are fabricated with a CEREC machine's help, which designs and produces ceramic restorations in a single appointment.
If a dental crown is a right treatment for you, you will need to see your dentist for a few appointments. Your dentist will assess and match the shade of your other natural teeth before preparing the natural tooth. A mould of the prepared tooth will be taken, and a temporary crown will be fitted. Your permanent crown will be made in a specialised laboratory and cemented into place when it is ready.
How can we help?
At Extreme Dentistry, we offer a range of restorative dentistry services, including dental crowns and bridges. A dental crown may be recommended for the treatment of badly broken down, cracked or worn-down teeth; badly discoloured teeth which don't respond to whitening; and teeth that are weak or damaged following root canal therapy. To find out more about the crowns we offer, please have a look here.
We also offer a number of cosmetic dentistry treatments, including dental veneers. We offer two types of veneers: paint on veneers and one visit veneers. To find out what each of these treatments involves, please have a look here.
If you would like to make an appointment, please get in touch with us. We look forward to helping you achieve a beautiful and healthy smile.