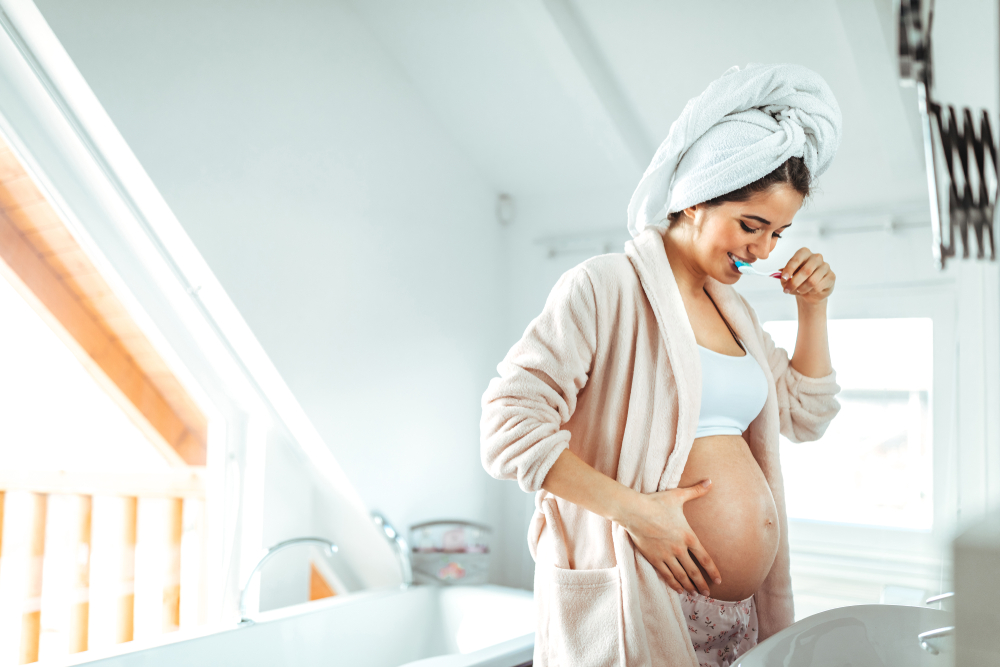 It is important to look after your teeth while you are pregnant.
If you are expecting a baby, you will know that there are so many things to think about when it comes to maintaining your health throughout your pregnancy journey. Are you eating right? Are you getting enough exercise? When will you see your doctor for your next check-up? With your own wellness as well as that of your baby's at the front of your mind, it is worth knowing that your oral health should also be a priority at this time. In fact, taking care of your teeth and gums is extremely important while you are pregnant because hormonal changes can actually increase your risk of gum disease and affect your developing baby. We've put together our tips for keeping your oral health on track all the way through your pregnancy…
How to take care of your oral health
It is always a good idea to let your dentist know if you are pregnant. Most routine dental care can still be performed during pregnancy, as well as urgent procedures. Your dentist will probably recommend, however, that any elective dental work, such as cosmetic treatments, are postponed until after the birth of your baby.
It is important that you continue to see your dentist for regular check-ups and cleans while you are pregnant. Some of the hormonal changes associated with pregnancy can lead to a condition known as pregnancy gingivitis — this often causes tender and bleeding gums. If your dentist identifies the signs of gingivitis, they will help to address the issue.
Just as always, you should practice proper oral hygiene every day by brushing and flossing your teeth regularly. This will help to prevent oral health issues that could lead to bigger problems.
How to manage morning sickness
Unfortunately, morning sickness can be debilitating for many women in their first trimester of pregnancy. If uncomfortable symptoms like nausea and vomiting are affecting your normal oral hygiene habits, speak to your dentist about possible solutions. They may be able to recommend a bland-tasting toothpaste, for example, or a mouthwash to use after vomiting.
Even if you feel sick, try your best to brush your teeth at least twice a day and to floss daily as this will keep your mouth healthy and clean.
Be mindful of your diet
Many women experience cravings while they are pregnant but, for the sake of your general and oral health, it is best to limit your consumption of sugary foods and drinks. The more often you snack on sugary treats, the higher your risk of developing tooth decay and cavities.
Try to eat a balanced diet that contains all the nutrients you and your baby need. Your baby's teeth actually begin to develop around three months into your pregnancy and certain foods can benefit the development of their little teeth, gums and bones — dairy products, for example, will aid your baby's growth in the womb.
How can we help?
Research shows that there is a connection between gum disease and premature birth, which is why it is so important that you maintain your oral health during your pregnancy. At Extreme Dentistry, our team is available to address any concerns or questions that you have. We provide a comprehensive range of preventative and general treatments, including routine check-ups and cleans.
We also offer a range of cosmetic and restorative treatments, so if you are considering a particular procedure after the birth of your baby, we encourage you to come in and discuss your needs with us.
To see the full list of services that we offer at Extreme Dentistry in Darwin, please have a look here.
If you would like to arrange an appointment, please give us a call on 08 8948 1225 or get in touch with us here. We look forward to welcoming you to our practice and helping you take care of your beautiful smile.